Timeless Essence Body Butter
The Timeless Essence Body Butter is a rich moisturizer with a thick buttery consistency that absorbs beautifully and potently into the skin. It holds a natural scent of its own along with powerful ingredients that are jam-packed with antioxidants that moisturize, even out one's complexion, and most importantly, heal and seals moisture into the skin. It targets plenty of skin-care concerns with non-comedogenic ingredients that nourish your complexion all year round while maintaining it acne-free.
Regular price
Sale price
$14.00
Unit price
per
Sale
Sold out
Key Ingredients

Shea Butter: rich in Vitamin A, E, and F which are antioxidants that promote circulation and healthy skin cell growth. It has wonderful healing and anti-inflammatory properties that improve the complexion from those who often suffer from dry skin, eczema, psoriasis, atopic dermatitis, and sensitive skin overall.

Gotu Kola: this specifically targets cellulite, wound healing through antioxidants, reduces the appearance of stretch marks, and it's super anti-inflammatory.

Black Currant Seed Oil: helps to balance and tone normal/oily to blemish-prone skin types. It also delivers a potent dose of antioxidants that fight free radical damage, brighten the complexion and soothe irritation all while maintaining an acne-free complexion.

Squalane Oil: helps maintain a youthful appearance by reducing the appearance of fine lines and early signs of aging. It is non comedogenic, softens texture, fades/reduces spots of hyperpigmentation/scarring. It also helps oily skin maintain a balanced oil production that their skin naturally overproduces.

Arrowroot Powder: contains many beneficial minerals and vitamins such as zinc, iron, potassium, and Vitamin B6, and is known to provide relief to skin irritations including rashes, and acne. It's also able to improve one's skin texture, reduce oiliness and bring a natural glow to one's complexion due to its anti-irritant and anti-inflammatory qualities.
How To Use

Once you've enjoyed your daily shower or bath, pat your body dry with a towel. Then, apply a generous amount of body butter directly to your skin and gently massage into skin using firm, broad strokes until it is fully absorbed. Do keep in mind that a little bit goes a long way and that it will immediately melt upon skin contact in order to easily apply to your body.
Who is this product for?

for all skin types & all year round moisture
those who want to protect and nourish their skin barrier while maintaining an acne-free complexion
those who want to improve: skin texture, stretch marks, dryness, scars, acne, cellulite, and dark spots
those who want a formula jam-packed with antioxidants and non-comedogenic ingredients
Full Ingredients List

Butyrospermum Parkii (Shea Butter), Theobroma Cacao (Cocoa) Seed Butter, Behenyl Alcohol, Maranta Arundinacea (Arrowroot) Powder, Squalane, Ribes Nigrum (Black Currant) Seed Oil infused with Centella Asiatica (Gotu Kola), isopropyl myristate (IPM), Tocopherol (Vitamin E) Oil.
Additional Information

Weight: 4oz / 118 ml.

Instagram: @soulmadecare

Made in Florida

Warning: The safety of this product has not been determined.

Fun Fact: all of my products are made in small batches in order to ensure the freshness and quality of its ingredients.
Share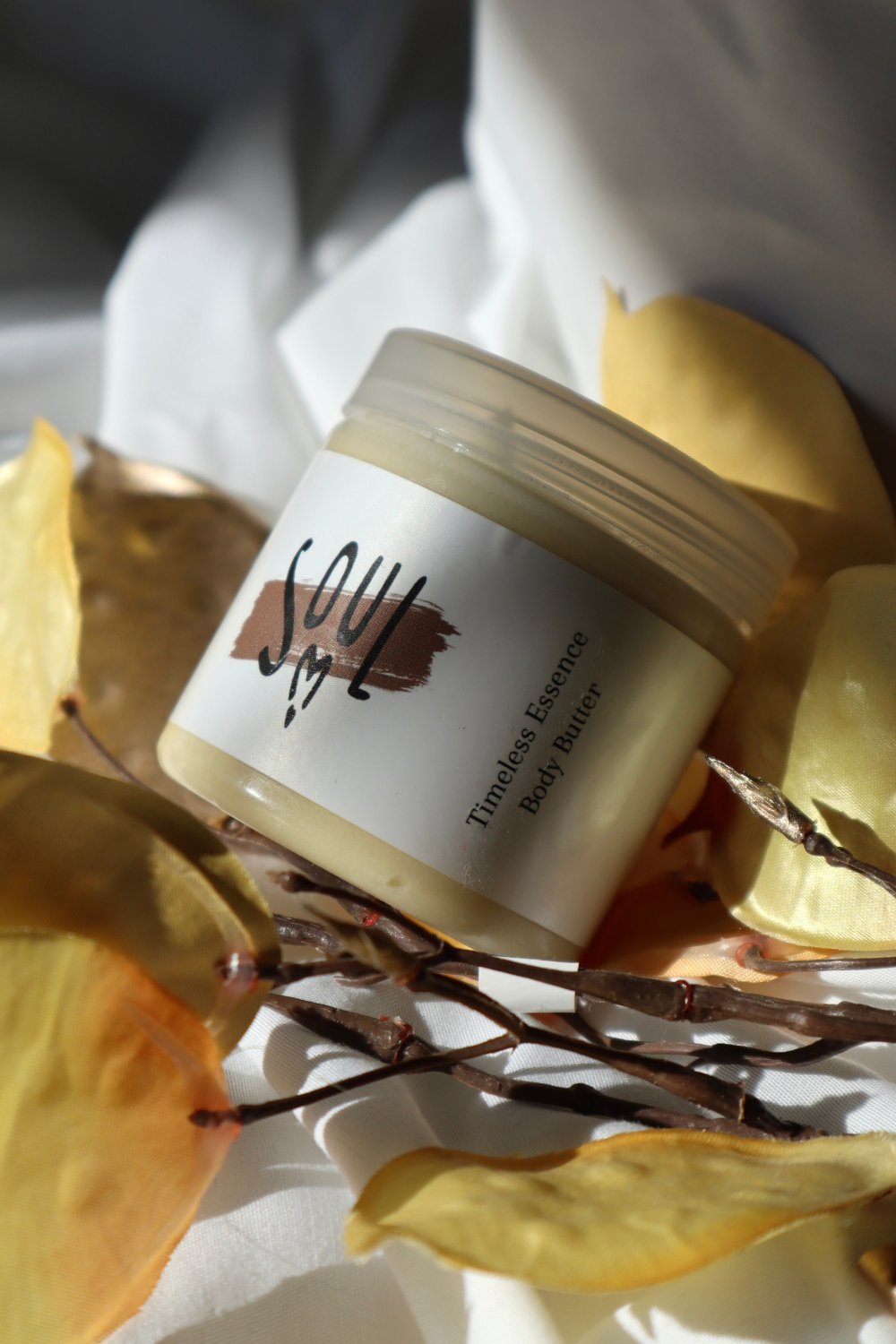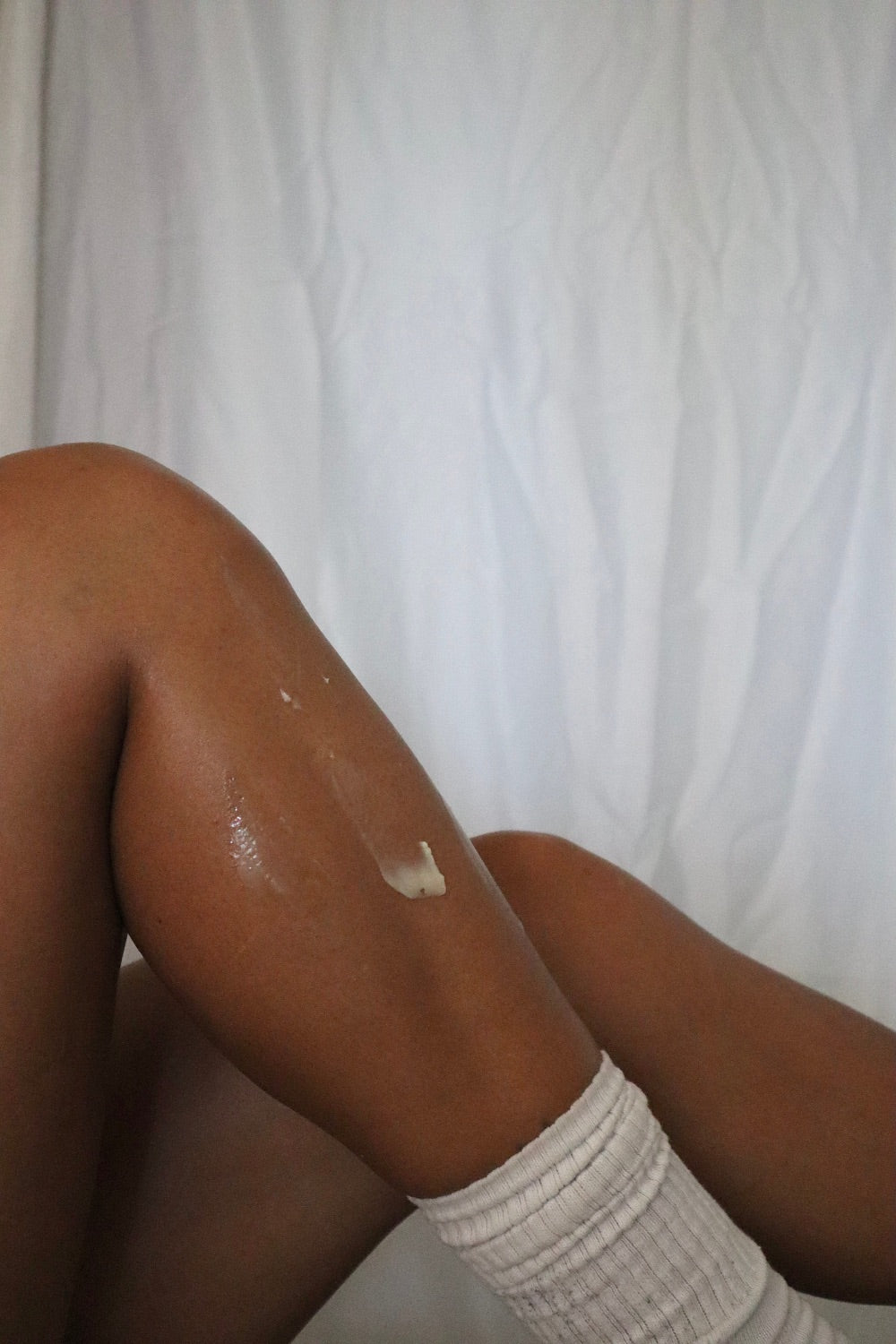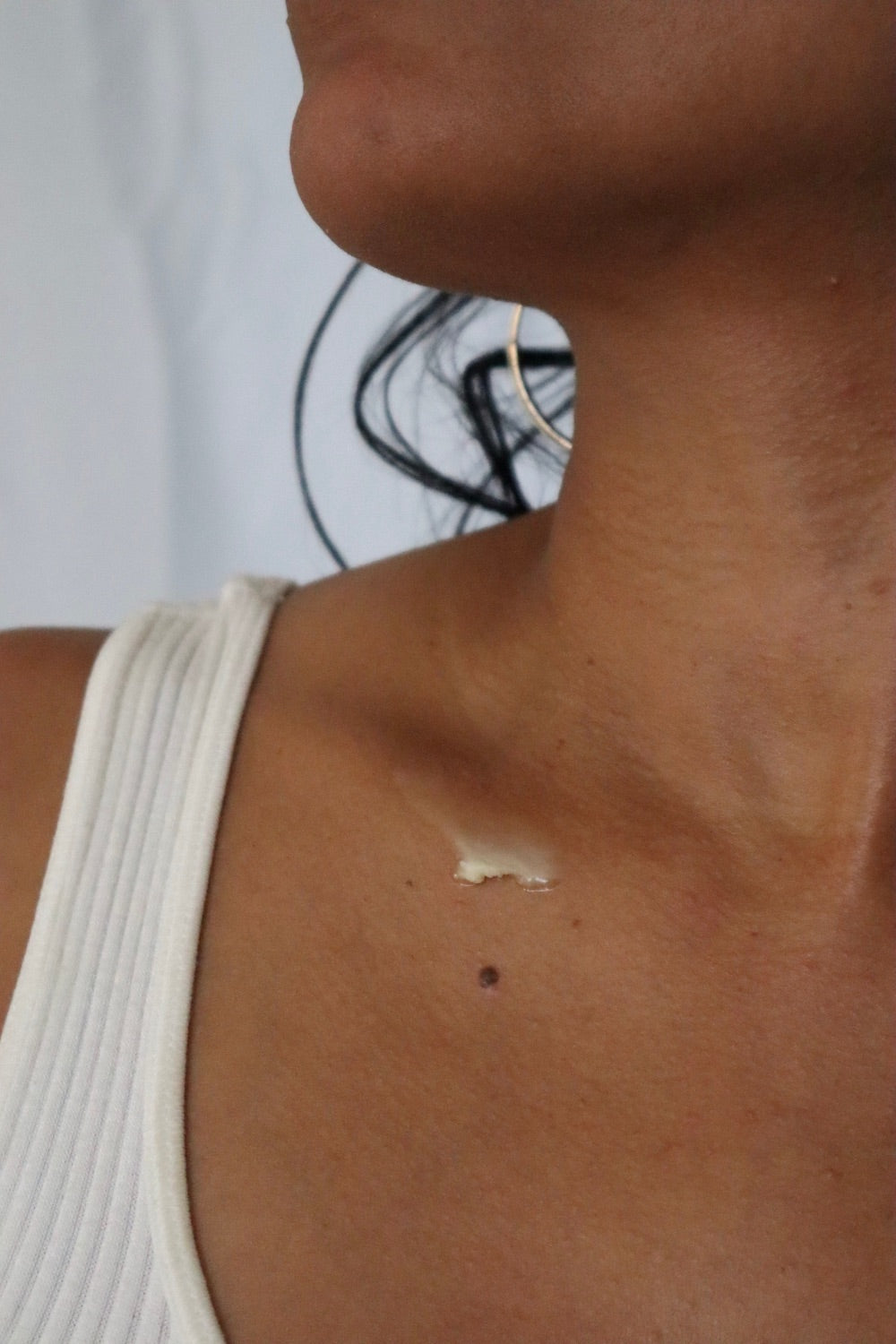 It Helps Heal Heat Rashes Too!!
I recently got a heat rash on my foot. I've never had it before so I was super confused but I've been applying the Timeless Essence Body Butter on my foot and all I can say is, wow! The T.E.B is treating it a lot quicker than I imagined !!
It's in the name!
This body butter truly makes me feel timeless. It is easily absorbed into the skin leaving your skin moisturized for hours. Usually, with other lotions/body butters, one has to keep reapplying the product throughout the day. However, with this T.E.B a little definitely goes a long way lasting the whole day!
That Glow..
Really trying to brighten many scars & just to hydrate my skin. Lotions just don't give me that Glow………So that's going to be a good selling point for me bc in order for me to look that glowy look… I always have to use1-2 lotions & must use my coco palms oil……… sometimes I don't have time for that lol
Definitely getting more!
This body butter is the best 🫶🏼 once melted into the skin it's not oily and it's super moisturizing all day !! I love it sm!
Review T.E.B
My skin has never been in the great conditions its been from using this product! easily the best of the best
PRODUCT INFORMATION
Ingredients Transparency
IPM: an emollient ester often used to prevent the greasy feeling of anhydrous recipes like body butters!
Behenyl Alcohol: it is used in the body butter as a thickener emollient and to improve spreadability.
Vitamin E Oil - antioxidant to help keep oils and butter fresher longer.
Cocoa Butter: it can replenish skin's moisture and create a barrier to protect your skin from moisture loss.
How long does shipping take?
The standard processing time for the majority of SoulMadeCare orders will be packed and ready for courier pickup within 5-7 business days, although currently, those times vary due to the issues relating to ongoing COVID-19 and government orders. Processing times may also be extended during holidays, launches/re-stocks, limited-edition releases and promotions. You will receive your tracking information to the email or phone number you provided at checkout. Please allow up to three business days hours for the provided tracking information to be updated.
Once you have received your order confirmation, it can take up to 5-7 business days to receive your shipping confirmation. This may also be extended during holidays, launches/re-stocks, limited-edition releases and promotions.
Please note that SoulMadeCare is not responsible for delays in shipping deliveries that include, but are not limited to the following: customs delays, natural occurrences, air/ground transportation strikes/delays or transfers to international carriers. 
Disclaimer
For external use only. Keep out of reach from children. Avoid contact with eyes. I am not a doctor and none of these claims have been evaluated by the FDA. If you are under medical care, pregnant, or have any health problems you may want to talk to your doctor before using natural skincare products. Skincare products my cause allergic reactions, talk to your doctor and know your allergies. If allergic reaction occurs SoulMadeCare LLC can not be liable, use at your own risk. Please consult your physician or midwife before using products containing essential oils if you are pregnant or nursing. All facts, details & recommendations on my shop are provided for information only and are not intended to diagnose, prescribe or treat any diseases.